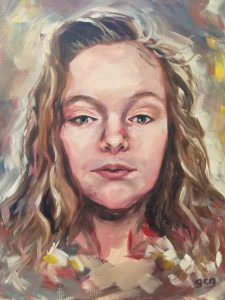 Hello, and welcome to my enclave of the internet! My name is Grace Gibson, and I am a mural artist based in New Jersey. While I founded my mural business, Grace Gibson Artwork, in September of 2020, I have been creating art in various forms since I was a toddler.
My murals adorn surfaces in indoor and outdoor environments, businesses and homes, covering everything from walls and ceilings to fences and sheds. I am comfortable painting nature scenes, cityscapes, animals, portraits, text—whatever idea you have, I will work to design an art installation that captures your mural fantasies, even if it means learning to paint in a new style or capturing an unfamiliar subject. In all of my work, I value meticulous detail, artful composition, and beautiful color.
If you are interested in my mural services, please navigate to the "Mural Work" page to see some of my previous work. If murals aren't your thing, maybe try the "Art Portfolio" page, where I display some of my portraits and other non-mural work—though mainly a mural artist nowadays, I also take portrait commissions frequently. And if your interests lie outside of the art world, be sure to check out the "Other Projects" page, where I exhibit some of my work beyond art. To read what my clients have said about my art, kindly peek at the "Testimonials" page. You can contact me about a new project or to share your ideas via the "Contact" page.
Thank you for visiting my site, and I look forward to creating art with you!